Video Toolkit
The 7 Best Video Editing Softwares for Windows
Looking for an alternative to Windows Movie Maker? In this article, we break down the top 7 best video editing softwares for Windows users.
PCs running Windows used to have a great, built-in option for anyone looking to create videos: Windows Movie Maker. Unfortunately, Windows discontinued that software in 2017.
If you're looking for a Windows Movie Maker alternative, look no further.
We've rounded up the best free video editing software for Windows users in this post. We'll break down everything you need to know: features, pricing, system requirements, and general skill level needed for each tool so you can make the best decision for your Windows video editing needs.
The 7 Best Video Editors for Windows:
Let's get started.
1. Kapwing
The Best Online Video Editor for Windows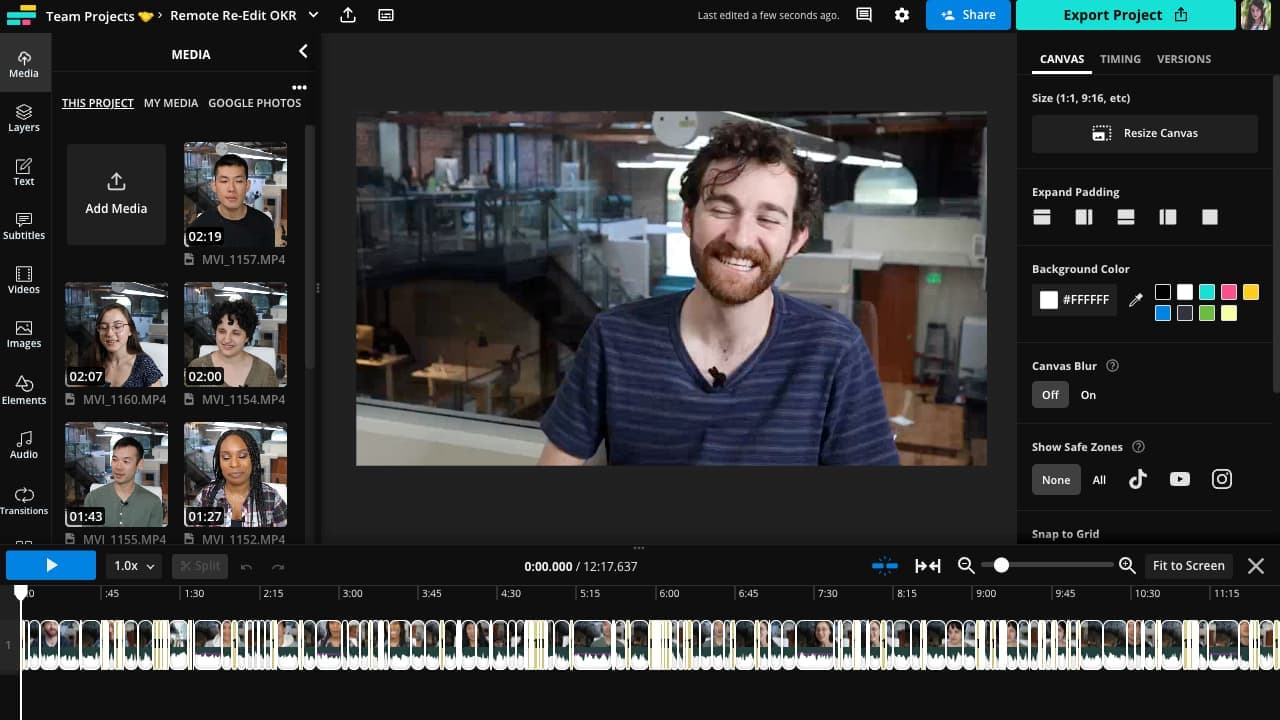 System Requirements: Browser-based software that works on all Windows devices, no download required.
Skill Level: Beginner to Intermediate
Now that Movie Maker is no longer with us (RIP), one of the biggest hurdles for editors using Windows is finding a reliable video editing software to run on your version of Windows. If you're working with an older machine, newer software can be laggy, buggy, or entirely incompatible. An online video editor might be the solution you're looking for. Kapwing is a lightning-quick video editor that runs on your browser, so it doesn't matter what operating system your computer is running.
We built Kapwing to be a fast, intuitive, and powerful alternative to traditional desktop editors. It comes with basic and advanced features, including a suite of time-saving tools like automatic subtitles, background removal, keyframing, and AI-powered tools like Smart Cut, which automatically detects and removes silences and pauses from your videos. We've recently added more AI editing tools, including an AI-powered script generator and an AI video generator.
Speed up your Windows video editing workflow with the Pro plan, which includes all the features mentioned above, plus the other features listed below. You can also try out the free version of Kapwing, which includes limited access to some of those premium features, including up to ten minutes of automatic subtitling a month and video exports of up to 4 minutes with 720p resolution.
Key Features:
Multi-layer editing timeline
Real-time collaboration with team mates
Unlimited cloud storage for your video files
Automatic subtitles in over 70 languages
Suite of AI-powered tools for faster editing
Trim, resize, and reformat videos for every platform
Safe Zones for editing social media videos
Brand Kit tools with custom fonts and team templates
Pricing:
Free
Pro: $24/per month ($16 when billed annually)
Teams: $24/per user per month
Related: 12 Best Free Video Editing Softwares for Professionals
2. Clipchamp Windows Video Editor
The Best Microsoft Video Editor for Windows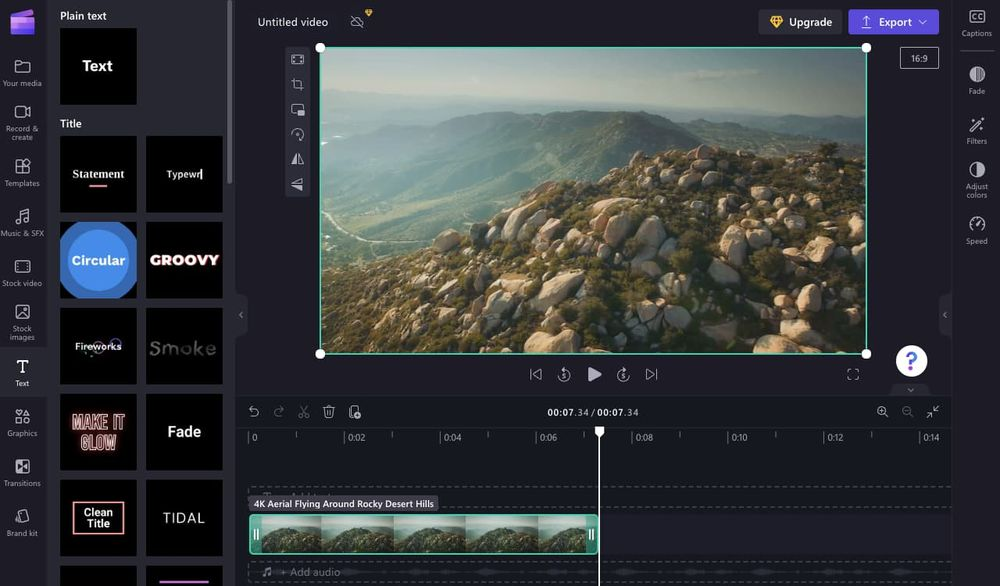 System Requirements: For the desktop app, you must be running Windows 10 or Windows 11; for the in-browser app, use Microsoft Edge or Google Chrome.
Skill Level: Beginner
If you're missing Windows Movie Maker and are looking for a Microsoft product to replace it, Clipchamp might fit the bill. Acquired by Microsoft in 2021, Clipchamp offers a hybrid desktop/browser editing experience. Unlike Movie Maker, it doesn't come preinstalled on your machine. You can either download it to run on your desktop or create an account and use it in your browser instead. This is true for both the free version and the paid subscription.
Clipchamp offers a suite of video editing tools, including filters and transitions, green screen, and AI voiceover. The variety of tools available to free users makes it a compelling option for casual creators who are looking for a default video editor to use for personal projects to replace Windows Movie Maker.
Key Features:
Speaking coach with real-time feedback
Customizable brand kit for paid users
1,000,000+ stock videos, images, and templates
170 AI voiceover voices in 70+ languages
Green screen functionality
Camera and screen recorder in the editor
Crop and resize using social media presets
Pricing:
Free
Essentials: $11.99/per month ($10 when billed annually)
3. DaVinci Resolve
The Best Color Correcting/Color Grading Editor for Windows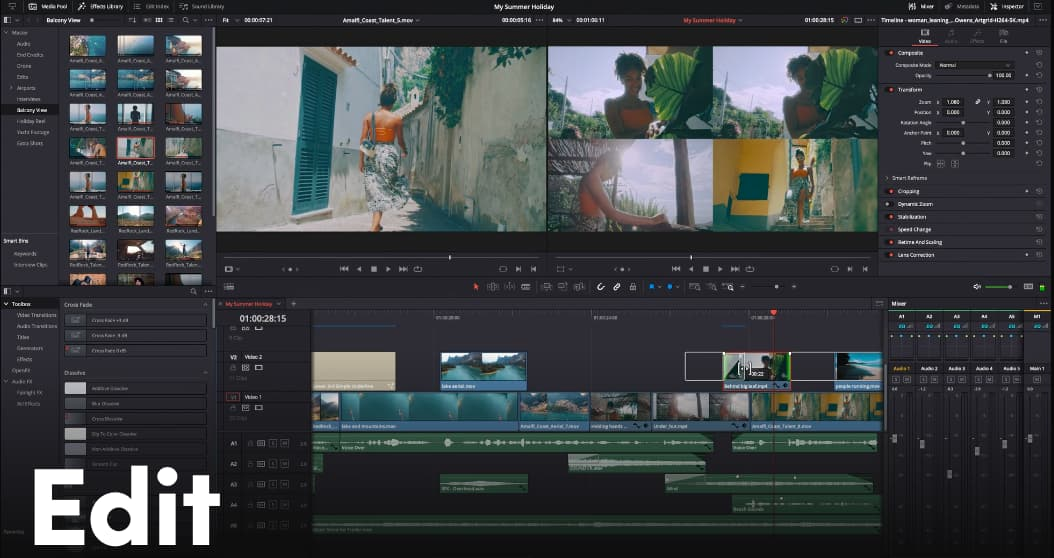 System Requirements: Windows 10 Creators Update
Skill Level: Advanced
For users looking for a powerful editor with cinematic editing capabilities and advanced features, DaVinci Resolve is a great option. Bear in mind that all that functionality comes with a learning curve. You'll also need a newer PC running the latest version of Windows in order to run the software, either the free version or the paid Studio version which unlocks even more features (and takes up even more processing bandwidth).
A simple Windows Movie Maker alternative this is not. But if you're looking for a great desktop video editor that you can use to produce studio quality films or even just stunning YouTube videos, you may want to consider DaVinci Resolve. The editor comes with a wide array of special effects plug-ins, support for multicam editing, extensive color grading tools, and cloud collaboration so you can make video alone or with a team.
Key Features:
Advanced audio tools to enhance sound
Supports resolutions as high as Ultra HD
Color grading tools like luma, HSL, and 3D keyers
Full-screen playback to support a dual monitor editing workflow
Advanced noise reduction for both temporal and spatial noise
Chapter markers for scene finding and creating social media clips
Supports multicam editing
Multi-user cloud collaboration
Pricing:
DaVinci Resolve: Free
DaVinci Resolve Studio: $295 one-time purchase
4. Microsoft's Legacy Video Editor
The Best Alternative to Windows Movie Maker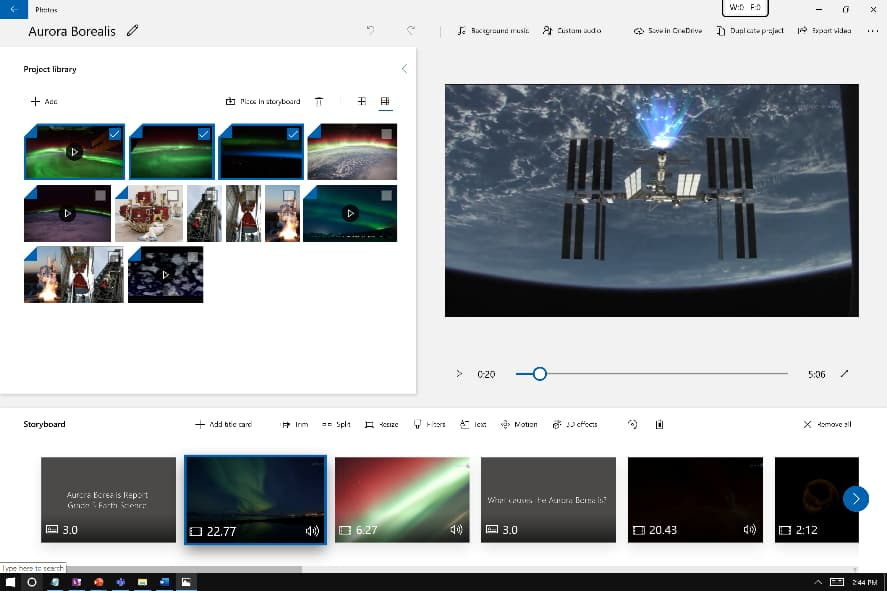 System Requirements: Windows 10 or 11
Skill Level: Beginner
We already listed Clipchamp as the official unofficial Windows Movie Maker replacement. But on their website, Microsoft calls their Legacy Video Editor "a successor to Movie Maker, with a focus on easy-to-use creative tools that help you tell your story." It's a simple, bare bones video editing app — which makes it a great editing software for beginners, especially if you want something integrated into the Windows workspace but don't want to download Clipchamp.
Because Microsoft wants you to use Clipchamp, it can be tricky to find the Legacy Video Editor. It's actually nested inside of another app: the Microsoft Legacy Photo Editor. Use the search function to find it in the Windows app store; you may have to scroll down quite a bit. Once you have the editor downloaded, you can get started right away with almost no learning curve. In the Legacy Video Editor you can add photo and video clips to your storyboard, add text and effects, trim and cut clips, and add music. Just like in Movie Maker.
Key Features:
Trim and cut video clips down to size
Add motion with animation and transitions
Add text and customize text styling
Add visual treatments with filters
Resize video's aspect ratio
Add music or background audio with audio tools
Pricing:
5. VSDC Free Video Editor
The Best Video Editor for Older Windows Computers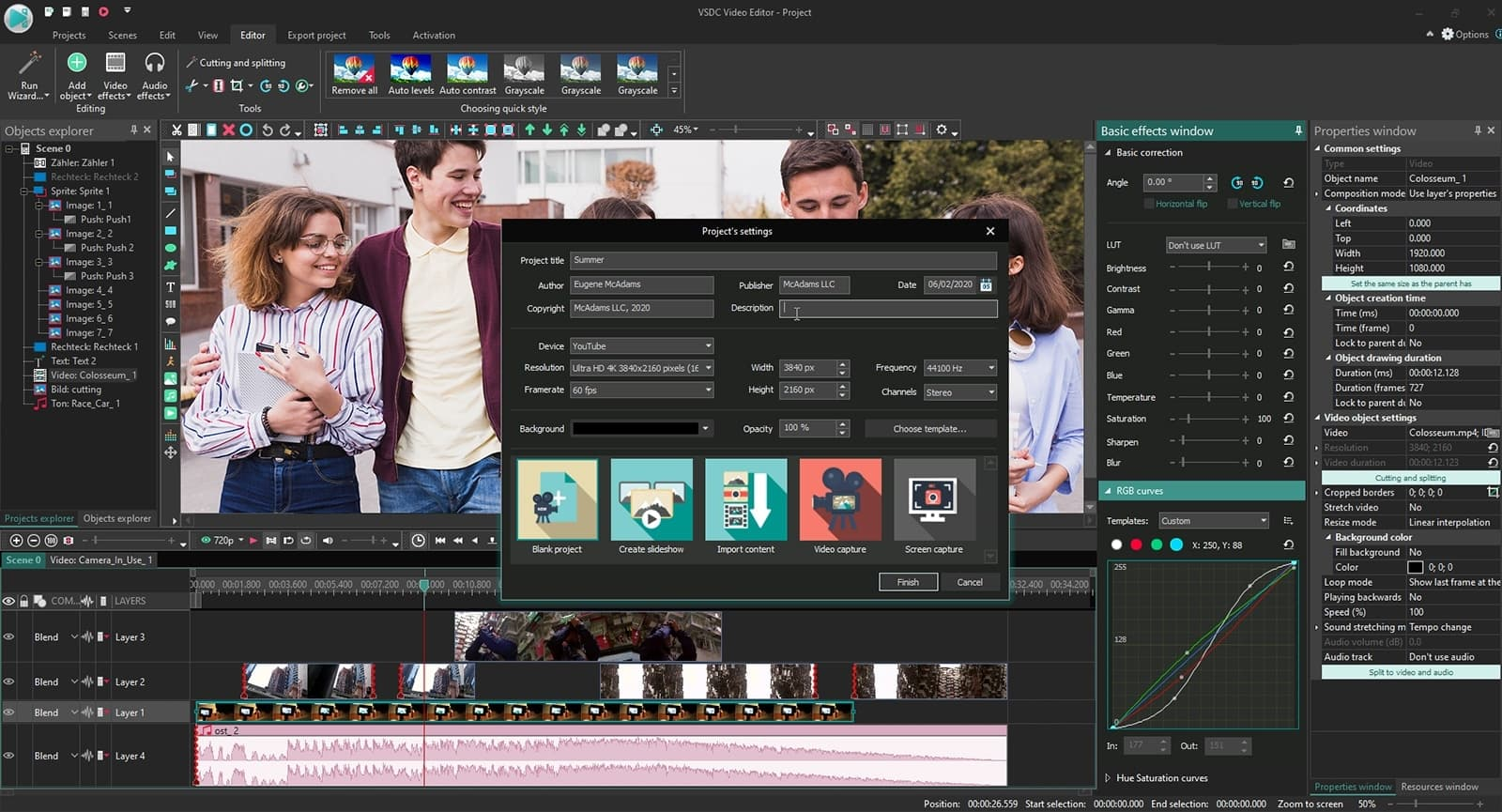 System Requirements: Windows XP SP3/Vista/7/8/10/11
Skill Level: Beginner
If you're rocking with an older PC but still need a powerful desktop video editor, VSDC has you covered. Most video editing softwares drop support for older operating systems after a few years. The VSDC Free Video Editor, though, supports Windows OS all the way back to Windows XP, which was released in 2001. You'll still need at least 2GB of RAM and 500MB of free disk space to run the VSDC Video Editor on your machine, though, which might make it the perfect editor to install on that old workhorse of a PC you can't bring yourself to get rid of.
Key Features:
Chroma key tool for background removal
Supports various video and audio file formats
Standard editing tools, like zoom, crop, and trim
Advanced features, like motion tracking, masking tools, and color correction
Visual and audio effects, like object transformation
Extensive library of effects, filters, and transitions
Price:
6. Shotcut
The Best Open-Source Video Editor for Windows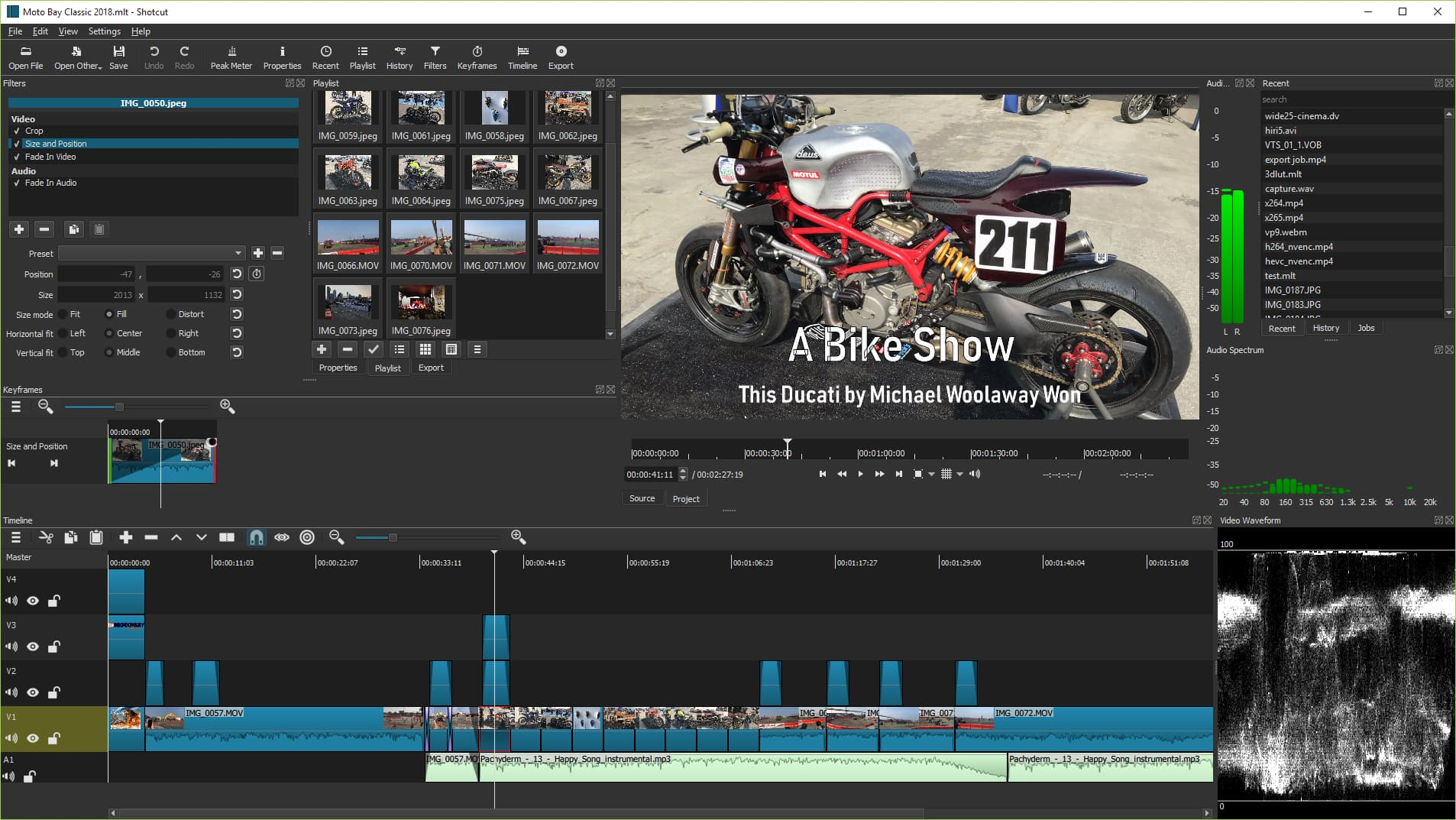 System Requirements: Windows 7 to 11
Skill Level: Intermediate
Shotcut is an open-source video editor that provides a host of robust editing features regardless of what operating system you're using. Because it's so feature-rich, there is a slightly steeper learning curve to using this editor, but it's not intimidating.
You can jump in and start making simple edits with standard features, like fade ins and outs, preset transitions, and clipping and trimming. For more advanced editing features, there are tools like chroma key, audio mixing, and color correction.
Key Features:
Multi-track video editing timeline
Color wheels for color correction
Extensive library of filters and transitions
Audio tools like audio removal and audio mixing
Unlimited undo and redo with edit history
Video clips and track compositing
Price:
7. Adobe Premiere Pro
The Best Windows Video Editor for Film-Making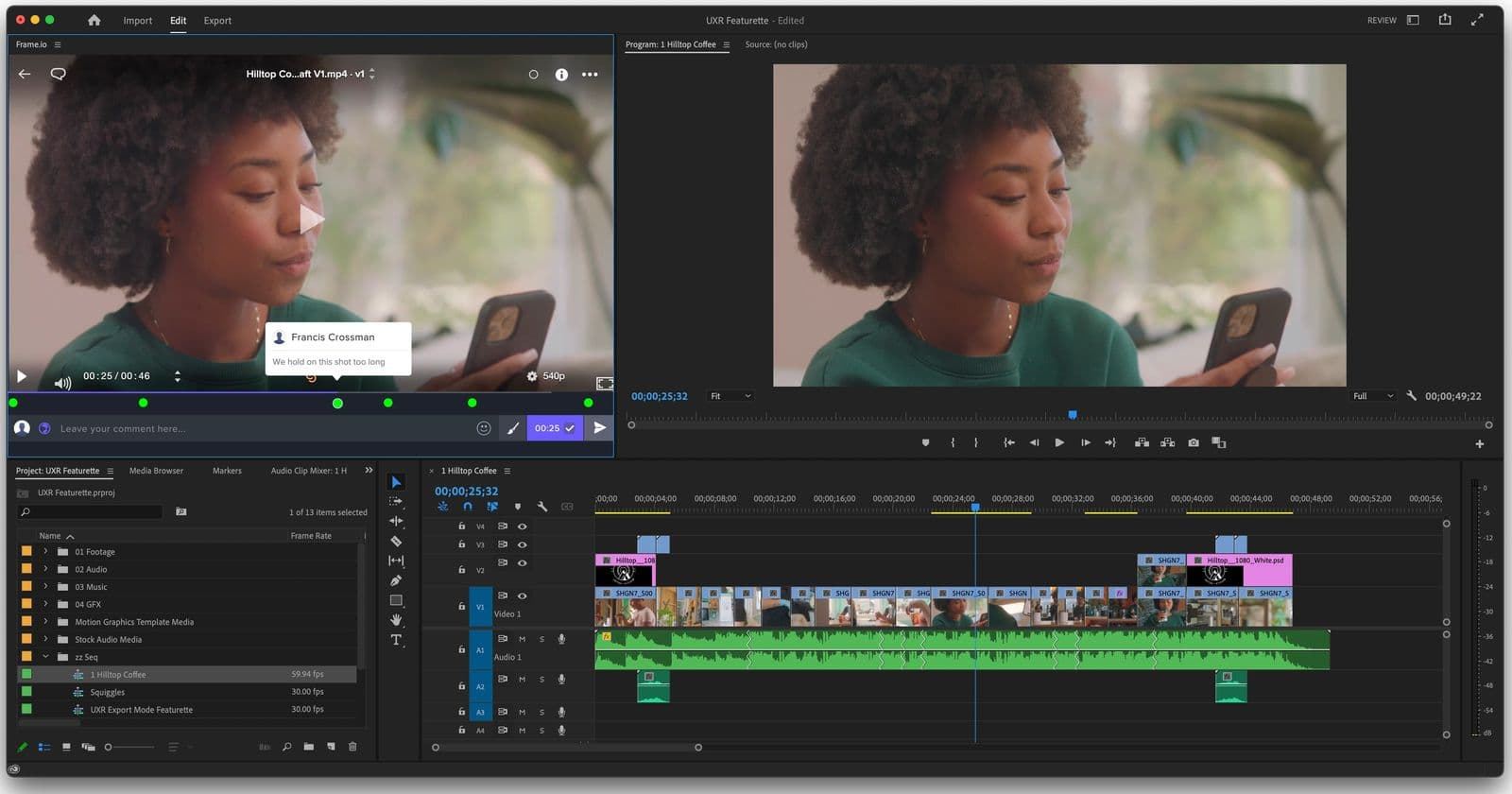 System Requirements: Windows 10 with 6th generation (or later)
Skill Level: Advanced
Adobe Premiere Pro has long been the industry standard when you think about powerhouse video editing software and is a favorite among professional video editors. While Adobe has added more beginner-friendly features (and even developed an entirely new software, Adobe Rush) to appeal to social media video creators, Adobe Premiere is still one of the most advanced video editing softwares you can find online as a Windows user. It's the go-to for many professional filmmakers in Hollywood and beyond.
If that's your bag, Premiere might be a great fit. Check out some of the features included and see for yourself.
Key Features:
Built-in DRM-free music library
Automatic tone mapping
Speech-to-text in 16 languages
Advanced audio mixing and editing
Extensive library of stock assets
Color-adjustment panel
Built-in video tutorials
Advanced AI features with Adobe Premiere Elements
Offline editing functionality, including sequence locking
Price:
Individual License: $20.99/per month.
Business Plan: $35.99/per month per license.
Hopefully this list has helped you narrow down the best Windows video editing software for your needs. Check out the rest of our Resources Library for more helpful articles like this or jump right into Kapwing's video editing tool to try it out for yourself.
FAQs | The Best Video Editing Software for Windows
1. What replaces Movie Maker in Windows 11?
There's no direct replacement for Windows Movie Maker in Windows 11, meaning there's no software that comes preinstalled like Movie Maker did. However, there are several options that you can use that will let you edit videos quickly and easily, similar to how Windows Movie Maker worked. Microsoft has two options you can download to your computer from the Microsoft store: Clipchamp and the Legacy Video Editor. You can also try a browser-based video editor like Kapwing, which doesn't take up any storage space but still works lightning-fast and offers a robust library of editing tools.
2. Does Windows 10 have a built in video editor?
No, Windows no longer has a built-in video editing software. If you want to use a Microsoft product, you can download Clipchamp or the Legacy Video Editor from the Microsoft store. You can also try using another video editing software that is compatible with Windows 10, like DaVinci Resolve or VSDC, or use an online video editor, like Kapwing.
3. What video editor should I use for Windows 10?
The best video editing software for Windows depends on your budget, editing skill level, available computer storage, and project needs. We recommend opting for an online video editor like Kapwing, which requires no software download and stores all of your project files in the cloud, saving you disk space and RAM. If you prefer a desktop editor, there are video editing apps you can download from the Microsoft store or online.
4. Does Final Cut Pro work on Windows 10?
Final Cut Pro is a video editing software made for Mac users, so it is not compatible with Windows 10 nor any other Windows operating system.
---
Related Articles:
Create content faster with Kapwing's online video editor →